Rooftop Rocket Yoga


July 25 (Thursday) at 20:00
Class length
1 hour 15 minutes
Rocket Yoga
Rocket Yoga is an Ashtanga Yoga system because we study our self through breath, bandha and dristi…but this practice can be deeper and more illusive than the traditional Ashtanga Yoga practice itself! Rocket Yoga is the "YES" Yoga of the Ashtanga Yoga world. Yes, you may take ownership of your yoga practice.
About the Teacher
"My purpose is to inspire others and awake their passion for yoga. My classes are grounding but playful, challenging but calming. I create a safe space where students can enquire within, connect to their heart and breath, so yoga can happen"
Elvira first read about yoga as a child, when she found a book in her mum's library. There was something about yoga that caught her immediate attention. And yet, it took a number of years, before she actually went to her first yoga class. She was in Bali for the first time during a rather turbulent time of her life. She sought out yoga with the intention to bring some sort of relaxation and ease back into her life and what she got was much more: it changed her life.
Ever since, yoga has been a central part of her life. She has been practicing with Richard Freeman, David Swenson and Manju Joice. In 2015, Elvira took some time off to travel to India, completed her 200 hours teacher training and started teaching Asthanga Yoga. During a trip to the US a few months later, she discovered Rocket Yoga, fell in love and decided to bring it to Switzerland. Therefore a few months later, she certified as Rocket Yoga teacher in Finland and started teaching it in Zurich.
Please bring your own yoga mat
and arrive at least 15 minutes prior to class start.
To ensure we all arrive relaxed and have time to settle in well for a successful yoga practice,
check-in for this class closes at 7.30pm sharp at the entrance of Sheraton hotel.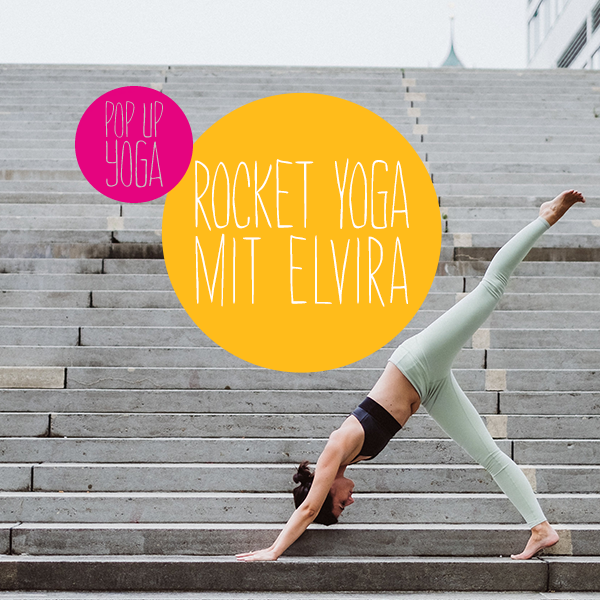 Lehrerin: Elvira
Preis: CHF30.00 oder Pass
Dauer: 75Minuten
Sprache: Deutsch oder Englisch
Ort: Bei schönem Wetter sind wir
exklusiv auf dem Rooftop Sihlcity
und treffen uns beim
Eingang Sheraton Hotel.
Sonst machen wir es uns gemütlich in dem Asia Spa Raum direkt neben dem Rooftop.
Bitte beachte, dass du mit der Anmeldung/Registrierung für diese Yogalektion unsere
AGB's
und unsere
Datenschutzerklärung
akzeptierst.
Sorry - that class has already taken place!